Relay Buses - Detroit
Once you arrive in Detroit – at Michigan Central Station or Baltimore Station – Freshwater Railway Relay buses can deliver you straight to the most popular destinations.
On weekdays, three different Relay routes provide direct access to and from rail stations – service is frequent, so you won't even need to know the schedule at most times. On weekends, one route connects all points of interest. Buses are scheduled to meet trains – with a comfortable window for connections.
All rail fares include free travel on Relay buses. If you're not using the rail system, you can use Relay buses by paying the $2.00 cash fare or using a GoTown day pass. Please see our Fares & Tickets page for more details.
If you're traveling on a WEEKDAY, view schedules for one of these Relay bus routes:
Relay 2 Monday-Friday
Relay 3 Monday-Friday
Relay 4-4X Monday-Friday
If you're traveling on a WEEKEND, view schedules for Relay 1:
Weekday Service
Weekend Service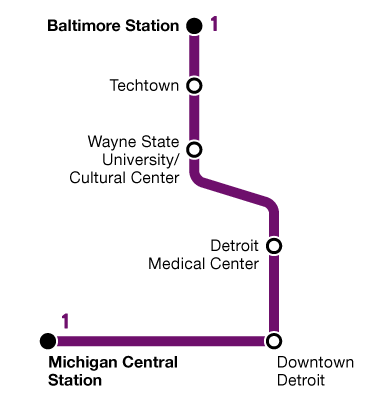 clearfloat
clearfloat
clearfloat